Verbalizions of Enlightenment: The Secret to the Pain (Paperback)
by Éric L Farrell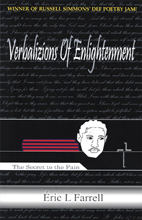 Inspirational & motivational poetry by a
Def Poetry Jam Winner
---
Availability: In Stock (usually ships within 24 hrs)
(quality paperback)

List Price: $14.95

2-9 day U.S. shipping
$3.49 first book / $0.75 each additional

30-Day Refund
if unsatisfied with your purchase, return book(s) in same condition with your receipt ID#.

Online Purchasing SECURITY (learn more)
Safely use any major credit card, check, or PayPal.
---

Quality Paperback - 80 pages
ISBN: 1931855242; Retail: $14.95
Emaculate Publishing; February 2002
Page Size: 8.5 x 5.5 x 0.21 inches


---
Description | About the Author | Reviews
---
DESCRIPTION


Russell Simmons Def Poetry Jam Winner, Éric L Farrell's inspirational and motivational poetry crafted to help you deal with life's everyday problems and struggles.

Synopsis:
Verbalizions of Enlightenment is far more than one might expect from a book of poetry. It's an inspirational piece of art, sculpted to be an exhibition of artistry and creativity, containing soul-stirring stories and powerful messages poetically conveyed through the eyes of the writer. He is able to capture the average person's feelings of wonder, curiosity, fear, abandonment, confusion and disappointment and put them into words in a way that provides understanding to life's everyday struggles, while walking the reader through his own healing process. It doesn't hide behind extensive imagery or far-fetched imagination. It's not confined to one group of people and it does not need permission to tell the shocking truth. It addresses society's common escapes of life's troubles, such as drug abuse, alcoholism, promiscuity, and materialism along with their consequences. The poems appear simple enough to be understood by the average non-reader, while at the same time, containing enough depth and hidden complexity to be read over and over by those who seek deeper significance.

This Book Contains:
-Inspirational and Motivational poems
-Photos
-Illustrations
-Bible Scripture References

First Sentences in This Book:
--"Verbalizions of Enlightenment (VOE) - is far more than one might expect from a book of poetry" [from Introduction]
--"Enlightenment brings indictment by opposing forces of non-nature."
by Eric L Farrell [from untitled introductory poem/message]

---



ABOUT THE AUTHOR


Éric L Farrell (www.ericlfarrell.com) – is a Woodbridge, VA based performance poet and Winner of Russell Simmons Def Poetry Jam who has performed as far wide as Italy and Kenya, and also with Grammy Award Winning gospel artists Shirley Caesar and Kurt Carr (and The Kurt Carr Singers) in 2005 and has opened for national gospel artists Byron Cage, Tye Tribbett & G.A., Canton Jones, and gospel hip hop's T-Bone. In 1999, while at Virginia Union University, Farrell and former college roommate Will Holmes Jr. founded E&W Collaborations – an online Christian ministry of poetry which continues today (www.ewcollaborations.com). And as an author of Emaculate Publishing, he released two books nationally, "Seeking Solace: Finding Peace and Comfort in Times of Distress" and "Verbalizions of Enlightenment: The Secret to the Pain," which broke many demographic barriers and was even studied by as course material for a full semester by a class at Virginia Commonwealth University (VCU). Farrell is believed to be the first poet ever to release a full stand-up poetry performance on video ("Sidewalks Are For Kids" DVD), and has been featured on gospel hip hop album "Fearless" by Rory Lyon and many magazines, newspapers, radio, and TV. He's also the founder and host of WordStage Poetry Lounge at Barnes & Noble in Richmond VA (since 2002) & WordStage Poetry TOUR (www.wordstage.net). His May 2007 poster release of his honorary poem "One Barber," is in tune with his goal of helping people realize their true purpose as individuals. The "One Barber" poster's success led to the demand of his "Un Barbero" (spanish version), "One Mechanic," and "One Stylist," posters. With magazine, radio, and TV coverage, Farrell's posters are now hanging in thousands of businesses, which are listed on his websites: www.onebarber.com, www.onemechanic.com, www.onestylist.net, and www.unbarbero.com.
---



REVIEWS ...read all reviews


(voted 5 out of 5 stars) Soul-stirring stories and powerful messages
"Eric Farrell's Verbalizions Of Enlightenment: The Secret To The Pain is an 80-page compendium of soul-stirring stories and powerful messages showcases in a poetry written to convey a process of healing from the stresses and abuses that life inevitably imposes upon most of us. Lotto Motto: Look at that airplane/That's your role model/You played like you was plane/Since babies tipping bottles//You'll crash just like a plane/When "We Get High!" turns to your motto/You admire rich planes/But they just played the lotto//I got something to say/Right now, for then/When you play the lotto/You either lose, or you win//Listen to me now/Or listen to me when/You could win a whole lot/Or your life could end...Take heed. "
James A Cox, Editor-in-Chief
The Midwest Book Review (Oregon, WI)

(voted 5 out of 5 stars) Visualizing the verbals in 'Verbalizions of Enlightenment"
"'WOW!'...that's all I could say when I read and re-read 'Verbalizions of Enlightenment.' I would like to encourage those of you who appreciate words of wisdom and those who are dealing with life for what it's worth to purchase this book. For those of you watching your calories...there are no preservatives or sugar sprinkled on top to cover up the facts that we all have to deal with, and the realities we see in our society. I would say that this book caters to everyone...unless, of course, they happen to reside on some other planet."
-Ruthology, an Artist. a Student. a Woman. Radio Personality
Grammarskool, CKUW 95.9 FM (Winnipeg, Manitoba - Canada)


"I have recently met and heard the spirit-filled poetry of Eric Farrell. He is truly carrying The Word forth as a mighty warrior for God. His poetry will offer insight and clarity to souls seeking answers and understanding. I thank you Eric, for sharing your words at The Overflow, at Ebenezer A.M.E Church. Much continued success with your books!"
Sistah Joy, poet & author (Washington, DC)
"Lord, I'm Dancin As Fast As I Can"


...read all reviews
---
about us | contact us | employment | permissions | terms of use | privacy policy